Mark Dyson
UX/UI Designer
Graphic & Web Designer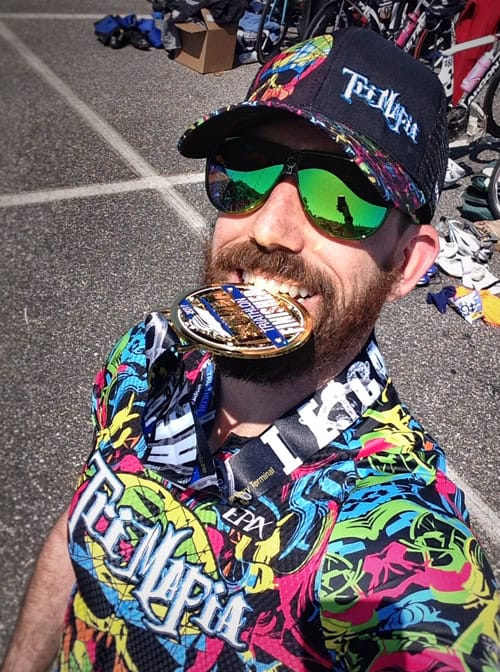 Ever since childhood, I have been doodling and using my imagination to create things. So becoming an artist of some sort was always my calling. During college I found my passion for graphic design. I've been honing those design skills for the past 18+ years…and learning how to move my teams to the goal line. Meanwhile I've discovered some complementary pursuits, including running and competing in triathlons. Pushing myself through physical trials has tested both body and mind, giving me tools I've been able to apply to my professional life as well. My other spare time is spent traveling, enjoying friends and family, fishing, and camping.
CONTACT ME
DOWNLOAD RESUME
Taylor Technologies, Inc.
Sparks, Maryland
Art Director / Senior Graphic Designer
Responsible for the overall visual aspects of the company image and branding, developing and evolving creative concepts across a range of communication mediums, including print, web, mobile, video, interactive, point of sale, and packaging for the pool/spa and industrial water testing industry.
iPrecision
Baltimore, Maryland
Graphic Designer & Project Manager
Conceptualized and designed stationery, brochures, corporate identities, direct mail campaigns, and developed film for offset/screen printing. Managed Home Depot Pro Desk campaign which involved illustrating maps, merging and addressing direct mail pieces, updating databases, and coordinating events.
TMK Design Group
Cockeysville, Maryland
Design Studio Intern / Graphic Designer
Designed printed ads, illustrated line art and logos, created packaging mock-ups and p.o.p. displays, color-corrected photography.
University of Maryland, Baltimore County
Major in Graphic Design
Minor in Geography
Overall GPA: 3.4/4.0
Honors: Dean's List, Member of Golden Key International Honour Society
Six month curriculum (350+ hours) split into 25 units and features a combination of videos, in-depth articles, hands-on design projects, and career-related coursework.
Design Thinking
User research
Synthesis and presentation
Ideating and Designing
Sketching, wireframing and UI
Prototyping and presenting
Design Sprint
Special Topics
Completion of 7 full-day intensive in-person courses with exams to earn UX certification in Interaction Design.
UX Basic Training
The Human Mind and Usability
Web Page UX Design
Effective Ideation Techniques for UX Design
Generating Big Ideas with Design Thinking
The One-Person UX Team
Application Design for Web and Desktop
Web Technologies Certificate & Web Business Certificate
Completion of 19 online courses to earn web certifications.
Introduction to Cascading Style Sheets (H151.64)
Introduction to XHTML (H401.42)
Intermediate CSS Workshop (H152.36)
Introduction to Dreamweaver (A131.59)
Advanced Dreamweaver (A132.03)
HTML Level II (H102.41)
Introduction to Web Design (D313.15)
Web Content Writing (B123.13)
Introduction to Web Analytics (B127.13)
Search Engine Optimization (B320.40)
CSS 2.1 In-Depth (H153.24)
Introduction to Designing Accessible Websites (D210.24)
Introduction to WordPress (B129.10)
Legal Issues for Web Designers and Content Managers (B141.33)
Intro to Programming Concepts (P010.56)
Mobile Web Design (H104.01)
Introduction to HTML5 (H105.01)
Web Site Promotion (B321.42)
Premiere Pro CS5 Essential Training
Premiere Pro CS5.5 New Features
Premiere Pro: Color Correction and Enhancement
Premiere Pro and After Effects: Creating Title Graphics
Fixing Video Exposure Problems in Premiere Pro
Encore CS5 Essential Training
Final Cut Pro Certified Training
Army Primary Leadership Course (PLDC)
ADOBE INDESIGN
ADOBE ILLUSTRATOR
ADOBE PHOTOSHOP
ADOBE PREMIER PRO
ADOBE DREAMWEAVER
Patricia Fitzgerald
Former V.P. of Marketing at Taylor Technologies, Inc.
I loved collaborating with Mark on marketing projects. When we were tasked to do more with less, his enthusiasm, dedication, and inventive mind carried the day. In our nine years together I never knew him to miss a deadline; moreover, he faithfully communicated the status of projects so that I was never caught unaware. For such a talented artist, he is mercifully free of drama and outsize ego. Hiring Mark was one of the savviest moves I ever made and will pay off bigtime for you too.
Chris Golden
VP of Sales Development & Growth at Taylor Technologies, Inc.
Mark is incredibly talented and creative. I bring Mark concepts of what I would like to see, and he turns my ideas into works of art. His creations always exceed expectations while beating deadlines. Some people have a gift for what they do – Mark is one of those people.
Kathy Cox
Project Management, Market Research and Analysis
Mark is a skilled graphic designer who always amazes us with his top-notch designs, project after project. From print work to animations and videos, Mark produces designs that are colorful, expertly arranged, and unique. Project success is assured thanks to Mark's thorough research and creative ideas. It's both a pleasure and honor to work with him.
Tina Tozzi
Director, Strategic Accounts – Associations & NonProfit
Mark is a talented and hard working professional. He is a valuable asset to any team in which he is a member. I highly recommend Mark.
Richie France
Former Manager of Little Vinnie's Tattoos
I've had the pleasure to work with Mark on numerous design projects. He always provides multiple design concepts in a timely manner. Mark is a true professional and easy to work with. 
Want to Work with Me?
Even with a busy training schedule, I still try and find time for all my passions. With design being one of those passions, I enjoy letting the mind explore and getting creative. If you have a potential project you would like to discuss or just want to say "Hi," feel free to drop me a line.
E-mail:
mark@markdysoncreative.com